Director/Editor/Executive Producer/Graphic Artist
Manauvaskar Kublall is an award-winning director, community organizer, educator and visual artist born of Indo-Caribbean heritage. He credits his distinct artistic voice to his immigrant experience and a commitment to presenting stories of underrepresented communities so that they are heard, understood, respected and empowered to transform society. Manauvaskar is the Creative Director at Media Sutra. He leads the company's Creative Services department (graphic design, film, photography and more). Manauvaskar has directed several animations based on children's stories and films related to social justice issues. He has exhibited his photography nationally and internationally.
Recently, Manauvaskar directed a short documentary of young leaders at the historic inauguration of the 44th President of the United States in Washington, DC, profiling the voices of leaders such as Van Jones, Jesse Carmichael and Mickey Madden of Maroon 5, Coumba Toure and Goapele. He premiered his film PRIMETIME: Fighting Back Against Foreclosures at the Museum of Modern Art (MoMA) in February 2009. This film adds a new narrative to an ongoing national discourse—one that is built on authentic voices, sharp analysis and a call for action. PRIMETIME was recently included into a summer long exhibition at the Queens Museum of Art that is focused on redlining. Combining his love of art and activism, Manauvaskar partners with South Asian Youth Action (SAYA!) to implement the PAACE (Photography for Art, Activism and Creative Expression), and recently began teaching film to middle-school students that are part of St. Nicholas Neighborhood Preservation Corporation.

Producer/Executive Producer/Asst. Editor/Music Supervisor & Composer
Rich McKeown is founder and president of KoolKidz Television & Publishing LLC. Founded in 2005 KoolKidz that has garnered over 100 Film Festival selections and awards throughout the U.S.A., Canada, Europe, Africa, South America and Asia and broadcasted on the Education Channel as well as EATV's, Kids Time programs. KoolKidz brings fresh, intelligent programming to today's sophisticated children and teens and are available online as well as in libraries throughout the US and Canada. Rich has been the sole composer & producer all of the KoolKidz soundtracks as well as providing the additional voices to the principal narrators. Rich composes sound tracks for other filmmakers as well composing and producing half of the soundtrack for American Beatboxer.
Rich is the producer of the award winning feature documentary American Beatboxer, which is currently broadcast on Revolt TV and recently inducted into the New York University's Hip Hop Education Center, the Harvard Hip Hop Archives and the Rock & Roll Hall of Fame Library & Archives. As a public speaker and educator, Rich McKeown has conducted several workshops for the NBCDI, the National Black Children's Development Institute instructing minority teachers from all over the country. Rich has presented to the students and faculty Columbia College of Chicago, the Harvard Graduate School of Education, and the Harvard Office of the Arts.
In 2011 Rich joined FulleeLoaded Productions as a full partner, writer, producer and head of Business Affairs and Marketing bringing his 15 years of experience working for publishing and entertainment giants, Prentice Hall/Simon & Schuster, Sony Video, Boosey & Hawkes, Bertelsmann Music Group  & HBO, combined with an additional 12 years in sales.
Rich recently directed and edited The Art of Beatboxing which will be broadcasted on Harvard TV. He is currently directing, editing, producing and writing the soundtrack for his 1st web series, DJ's Love Beer featuring the world's best DJs and the world of craft beer. The pilot is currently on YouTube.
[www.koolkidzpublishing.com]
Executive Producer of the film and the American Beatboxing Championships
Chesney Snow is a Drama Desk award-winning actor, beatboxer, poet, musician and songwriter based in Brooklyn. He starred in the Primary Stages' off-Broadway hit In Transit which received the most nominations of any Off-Broadway musical of the 2010-2011 season including Lucille Lortel, Outer Critics Circle, Drama League, Tina, and Drama Desk nods. He is co-founder of the World Beatbox Association, producers of the American Beatbox Championships, a national beatboxing battle in New York City and the Shanghai International Beatbox Competition in China.
He performed and collaborated on music and sound composition with Bryonn Bain's Hip Hop theatre performance Lyrics From Lockdown executive produced by the National Black Theatre, Harry Belafonte and Gina Belafonte which has played at Brooklyn Museum, Harvard University, The Ford Foundation and the National Black Theatre. In November 2012 he co-wrote several songs with Polish electro-funk band Laki Lan on the album Armanda (EMI Music), which has been hailed by the popular press and indie music blogs as one of the top releases of the year in Poland. He has established himself as highly respected beatbox artist. He recently recorded with world music star Zap Mama and was a special guest artist for MTV Unplugged Kayah in 2005.
As a stage actor he has performed regionally as an actor at the Delaware Theatre Company, Southwest Shakespeare Company, Shakespeare Sedona as well as in numerous off-off Broadway productions. New York stage credits include Lynn Rosen's Back From The Front directed by Giovanna Sardelli, Golden Boy directed by Frank Licato, and Burn This directed 2x Emmy winner Bill Rapaport.
 Associate Producers

Make It Happen Entertainment
"Established in 1997 & Based In NYC, NY – Make It Happen Entertainment Inc. (MIHE) is a Multi-Media Entertainment company specializing in Music, the Arts and the Marketing & Promotions of Artists in those related fields.  MIHE now also customizes affordable Marketing & Promotional packages for Small Businesses looking to enhance their brand and gain new clients."
Rahzel M. Brown
Rahzel is a 2x Grammy Award winner widely recognized as a member of the legendary hip hop band The Roots. One of the pioneers of beatboxing as been one of the crafts most iconic figures laying the groundwork for the culture to evolve and become recognized as musical artform.
Timothy Fisher
Hushawn Hudson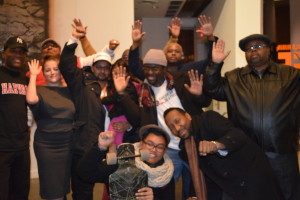 The American Beatboxer Team at the Bronx Museum screening.