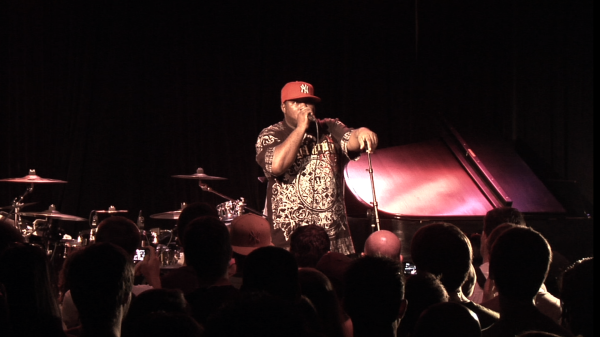 American Beatboxer is an award-winning feature documentary film about the 1st American Beatbox Championships. The film was a 2013 official selection of the Urbanworld Film Festival, Hollywood Black Film Festival, Peachtree International Film Festival, In Color Film Festival, Harlem International Film Festival, New York Independent Film Festival, and the 2014 Pan African Film Festival. It is currently airing nationally in the United States on Revolt TV, the new cable network from Sean Combs. It will kick off its 2014-2015 college screening tour at Harvard University in October 2014 followed by a panel discussion with the filmmakers.
On July 31, 2010, in Brooklyn, New York, the first ever American Beatbox Championship took place. Beatboxers and beatbox fans from all over the world converged at Littlefield, Performance and Art space, in Brooklyn, New York to witness and participate in this historical event. Contestants of all races, from the north, south, east and west of the United States competed. Now it's down to the eight finalists! This documentary honors the evolution of Beatboxing juxtaposed against the final day of competition to crown the first American beat boxing champion.
Directed by Manauvaskar Kublall, produced by Richard McKeown, executive producer Chesney Snow, co-founder of the American Beatboxing Championship, this film documents one of the most neglected genres of Hip Hop culture and places it in its rightful place in Hip Hop history as well as an American art form. The awesome soundtrack is provided by the multi-talented finalist, Maximillion and Fullee Loaded Productions. On the judging panel are Hip Hop Legends, Rahzel the "Godfather of Noyze", Masai Electro, Parrish Smith of EPMD, as well as Jarobi White of A Tribe Called Quest!
​
Featured appearances include Kenny Muhammad, The Human Orchestra *, world renowned drummer Swiss Chris, World Beatboxing Association co-founder Chesney Snow * Hobbit, from the U.K. * 2009 Spanish beatboxing champion, Lytos *, from France Ezra and L.O.S. * KRNFX from Canada and many many more!